Empowerment: an introduction
Annie Kelly on how true empowerment can result in lasting change
Monday September 08 2008 11:02 BST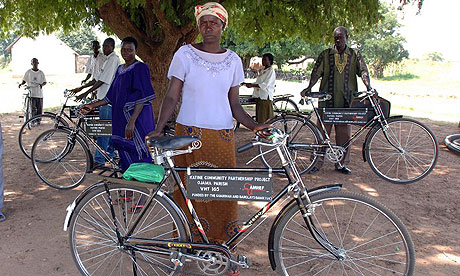 Empowerment is a difficult word to define. It is used widely and probably too easily by donor agencies, governments and NGOs to describe a number of different approaches and strategies towards development.
Yet at the heart of all empowerment strategies lies the basic concept of giving people or communities the power to control their lives and claim their rights.
In Uganda empowering all citizens to play an active role in the country's economic and social recovery is a pillar of its Poverty Eradication Action Plan and is at the heart of the country's wider decentralisation agenda.
After decades of centralised single-party and military dictatorships left the country's productive capacity destroyed and its economy in tatters, Uganda has now developed a democratic multi-tier system of local government, which has seen power and administrative control of some state functions such as education and local governance decentralised from the centre out to the regions.
The participation of local communities in the rebuilding and reshaping of their own public services such as education, sanitation and health is seen to be essential to the success of this strategy. Local democracy means that communities now vote-in their own local leaders and government officials, who are then theoretically accountable to the people who put them in power (instead of to central government agendas).
But while Uganda is starting to enjoy a blossoming international reputation as a country where a new governance framework has the potential to enable and encourage universal participation at every level of society, success in translating empowerment from the page to the ground has been patchy.
This is particularly true in northern Uganda, which was wracked by conflict throughout the violent rule of Idi Amin and his successor Milton Obote. By the time the Lord's Resistance Army reached Katine in 2003 and inflicted terror on the entire sub-region, northern Uganda had weathered over three decades of political and military instability.
Poverty, illiteracy and a lack of the most basic services are just some of the legacies left behind. While the Ugandan economy sees a steady economic growth rate of around 6% a year, nearly 70% of people living in rural northern Uganda survive on less than one US dollar a day.
The people of Katine continue to be among the poorest in the country, and some of the least likely to benefit from development budgets and initiatives. Despite the government's progress in rebuilding the economy, many villages in Katine lack the most basic services and facilities.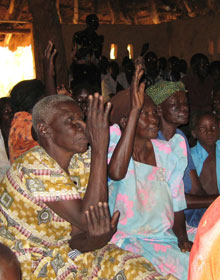 Involving people in local government and decision-making processes continues to be undermined by the fact that elections at all levels in Uganda are usually characterised by contestants paying their way into power. And although the governance structure for universal participation is now in place, development budgets are still largely controlled at the top of the power chain.
The dissemination of information, key to any real participation in local decision-making processes, is also being curtailed by mass illiteracy. Over 30% of all adults and over 50% of Ugandan women still can't read or write. Contact with the news media is also limited, with most Ugandan women having no access to a radio. The government providing access to information is one thing, if people can't reach or understand it then what's the point?
But perhaps the biggest challenge the empowerment agenda faces is the sense of powerlessness still felt in the dusty villages of rural Uganda.
For people who for decades have been relentlessly driven off their land, had their cattle stolen and lost family members to successive insurgent groups, the idea that they have any power at all must require a leap of the imagination.
According to Amref, the recognition by local people that they have basic rights to healthcare, education, shelter and food – and the fact that the government has an obligation to deliver on these rights – is key to real and transformational empowerment from the ground up.
Communities who understand that they have a basic right to health can start questioning why it is undermined by a lack of food, medicine or healthcare services. A village which believes its children have a right to universal education can start asking why schools aren't being built, girls continue to be excluded or promised teachers and textbooks fail to materialise.
The causes of poverty – such as exclusion, unfair allocation of resources and marginalisation – can begin to be questioned, symptoms recognised and local state players and officials held truly accountable.
In Katine, groups such as Amref and Farm-Africa are trying to break down these barriers by drawing on the resources of the community to mobilise and participate from the ground up.
The Katine Community Partnerships Project has formed village health teams (VHTs) and Water/Sanitation committees that meet every week to discuss the needs of their villages.
Committees like the VHTs are made up of volunteers from villages across Katine sub-county, who work with Amref to disseminate information and mobilise and organise locals to identify gaps in provision in their own community as well as across the region.
Training recently given to all 132 members of VHTs across Katine's six sub-counties helped develop capacity for local people to gather accurate sanitation and hygiene data from across the region and then feed this into wider regional strategies for sanitation services.
In this way it is hoped that empowerment initiatives like VHTs will grow to become fully integrated into the communities they serve and that the status and respect accorded to volunteers who run them will encourage others to take part.
Real community empowerment has the potential to bring transformational change to a country that is doing its best to recover from years of instability and bloodshed. But at the end of the day it will only work if every single Ugandan gets the chance to play a part in shaping the future of what is still a fragile state.
--
Jean-Louis Kayitenkore
Procurement Consultant
Gsm: +250-08470205
Home: +250-55104140
P.O. Box 3867
Kigali-Rwanda
East Africa
Blog:
http://www.cepgl.blogspot.com
Skype ID : Kayisa66