Kenyan star wants to go the distance

China Daily/The Paralympian
Updated: 2008-09-07 09:18
Kenyan wonder Henry Wanyoike plans to pay back the Christian Blind Mission (CBM) by going the distance this time around at the Beijing Paralympics.
The distance runner will test his flight at the 42km Olympic event this year, hoping to win a medal for the institution that gave him back the will to pursue his dreams after losing his vision from a stroke he suffered in 1995.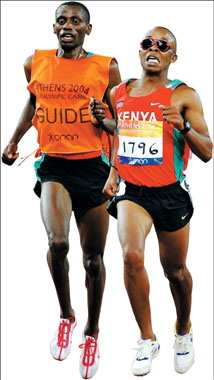 Henry Wanyoike (right) of Kenya crosses the finish line for a new world record in the men's 10,000m (T11-blind) track final on Sept 18, 2004 during the 2004 Paralympic Games in Athens, Greece. Joseph Kibunja (left) is his track guide and childhood friend. [Agencies]
The 34-year-old Paralympian and CBM ambassador told The Paralympian he's confident about his prospects of reaching the marathon podium. His world record finish for blind runners at the 2005 Hamburg Marathon was nearly 15 minutes ahead of defending Japanese marathoner Yuichi Takahashi's time at the 2006 International Paralympic Committee (IPC) World Athletics championships in Assens, Netherlands.
Wanyoike may actually have a tougher time defending his 5,000m and 10,000m world record titles from Athens in Beijing. He'll need to run faster than friend and teammate Francis Thuo, who started running after hearing Wanyoike's story. Thuo took many by surprise when he beat Wanyoike for the gold in both the events at the 2006 IPC World Athletics championships.
"Both of us are a little bit nervous to see each other on the track again," Wanyoike said. "(But) I'm sure that I will win and break my own world records."
After recovering from a serious car accident earlier this spring, Wanyoike prepared for Beijing with his track guide and childhood friend Joseph Kibunja at a high-level performance training camp near Eldoret, Kenya.
"I feel very strong," he said. "I think I can do three gold medals if everything works normal.
"I'm proud to take part in the Games," said Wanyoike. "Thank God for getting (me) blind, so I have the possibility to show the world what disabled people can do."
Apart from being one of the world's fastest runners, Wanyoike, who will visit the CBM in Germany after the Games, is also closely involved in charitable initiatives.
They include using prize money to buy knitting machines for blind Kenyans, so they - like he once did - can provide for themselves by knitting pullover sweaters. He also started an annual Hope for the Future Run following his country's post-election violence, which he uses to spread peace around Kenya.
--
Jean-Louis Kayitenkore
Procurement Consultant
Gsm: +250-08470205
Home: +250-55104140
P.O. Box 3867
Kigali-Rwanda
East Africa
Blog:
http://www.cepgl.blogspot.com
Skype ID : Kayisa66